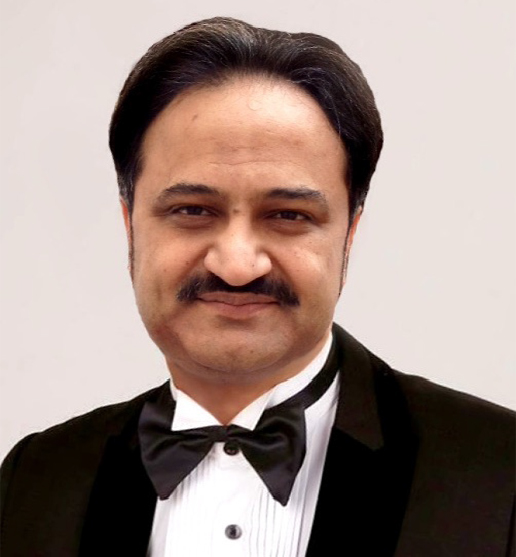 The writer is an
economist, anchor,
analyst and the
President of all
Pakistan Private
Schools' Federation
president@Pakistan
Russian troops begin the invasion of Ukraine, one of President Vladmir Putin's vicious attempts to redo the borders of the former Soviet Union since the end of the Cold War more than 30 years ago. The Russians shut down Kyiv but met with strong opposition. It is something that has never been seen in Mr. Putin, now facing a series of new sanctions from the US and Europe aimed at damaging his country's economy. Ukrainian President Volodymyr Zelenskyy, considered Europe's most vulnerable president, finds himself at the forefront of the Russian military. "We are told that the door is open," Ukrainian President Volodymyr Zelensky said last week about his hopes of joining NATO. "But for now, no foreigners are allowed in." The Ukrainian president lamented that Western countries were moving with greater caution to intensify pressure on the Kremlin. Zelenskyy said he had recently spoken to President Joe Biden and the US was mobilizing international support for Ukraine. Unfortunately, this situation is a lesson for those who regularly rely on the US and the West for help.
Volodymyr Zelenskyy introduced military law, saying Russia has targeted Ukraine's military infrastructure and the explosion was heard across the country. He urged Ukrainians to stay home and not panic. China, on the other hand, refuses to call Russia's invasion of Ukraine an 'attack,' throwing the case at US-China thinks it is the proliferation of NATO and other threats from the US and NATO that eventually force Russia to defend its legitimate interests. Prime Minister Imran Khan regrets the recent stalemate between Russia and Ukraine and said Pakistan hopes the peace talks could prevent a military conflict.
Ukraine was part of the Soviet Union before its collapse at the end of the Cold War in 1991, after which Russia lost much of its economic power and prestige. Prior to 2014, voting signaled widespread divisions and divisions among the people by joining the EU or Moscow-led economic bloc. In a November 2021 survey, however, 58% favored the EU, with 21% of the Russian party. Russia's disagreement over the rise of NATO is largely due to the post-Cold War tensions between the West and Russia. Built-in 1949 as a defense against the former Soviet Union, NATO has grown to 30 countries — many of which were part of the Soviet Union or its satellites. Although that bloc is no more, NATO growth across Europe and its rise eastward are seen by Russia as a threat to its national security. Several neighboring countries of Ukraine that were part of the Soviet Union have joined NATO in recent years. But deep tensions between Ukraine and Russia have made it difficult for Ukraine's desire to be included in the alliance. In 2008, NATO announced that Ukraine and Georgia would become members if they met certain conditions, such as the coalition's standards for governance and transparency. Joining NATO was a priority in Ukraine, but the nation's application for membership made little progress. Some NATO members have cited Ukraine's history of corruption as a source of delays, while others say its transition to democracy in the mid-1990s is still weak. Some NATO members fear Russia will react violently if Ukraine joins the coalition.
Mr. Putin says the main goal is to protect Russian-speaking people in Ukraine, especially those in the two so-called republics of the Republic of Donetsk and Luhansk, who rebelled against Ukraine in 2014. He called it the "de-Nazification", especially as some nationalists sided with Nazi Germany during World War II. Ukraine has denied Moscow's claims that it is trying to recapture the area or that somehow it appears to neo-Nazis. More importantly, Mr. Putin views Ukraine and Russia as inseparable, "one people, complete," and considers its close alliance with the West and especially its desire to join NATO, the North Atlantic Treaty Organization, with deep suspicions. In fact, Russia believes NATO's main goal is to weaken Russia. It sees any increase in NATO as a direct threat to its interests, and Ukrainian membership could mean that the country has been brought far beyond Russia's influence. Putin pointed out that in 2005 the collapse of the Soviet Union was the greatest catastrophe of the century. Russia's military campaign marks the continuation of a policy that has seen Mr. Putin gradually grow in the sphere of influence, reaffirming Moscow's rule over former Soviet republics such as Belarus, Georgia, and Moldova. Ukraine sits on the western side of Russia where, historically, it has been at high risk of invasion.
The decision not to enter Ukraine's conflict comes at a difficult time for NATO, as Ukraine has expressed a desire to join the military alliance but remains closed due to Russia's strong opposition to NATO's rise to the east. To date, Russia's massive invasion of neighboring countries has closed Ukraine's borders, bombing cities and bases with bombs or bombs, but few NATO allies are on high alert. Mr. Putin is powerful, too, as Russia is the largest supplier of natural gas to Europe. To date, the Western response is very limited in sanctions. The first steps set by Mr. Biden and the European governments were modest at first but became increasingly sophisticated as Russia prepared for a full-scale invasion. The North Atlantic Treaty Organization (NATO) has reacted angrily to the Russian invasion of Ukraine, sending thousands of troops to Eastern Europe to protect its allies. However, NATO countries will not fight Russia unless it attacks a member state. Despite ongoing wars and growing casualties, NATO will not send troops to Ukraine, instead, it will strengthen its eastern side. US President Joe Biden has also confirmed that he will not send troops to Ukraine. The US has an estimated 90,000 troops already in Europe, most of them based in Germany, and will send 7,000 troops to Germany.
Although attacks on NATO countries are currently not possible, several member states have called for security talks under Article 4 of the NATO agreement. Article 4 states that countries shall consult together at any time, in the opinion of any of them, and in the case of the territorial integrity, political independence or security of any Party. The consultation under Article 4 does not guarantee that any action will be taken, but it does allow for immediate negotiations. At that time, the member states did not implement Article 5, which set out the declaration of an alliance that the invasion of member states was considered an invasion of all. Advocating for Article 5 would mean that all NATO countries vowed to unite — possibly in a war — if one member was attacked. It was requested only once, following September 11, 2001. terrorist attacks.
President Biden called Mr. Putin's actions an "unnecessary and baseless" attack and said the Russian president and his country would bear the consequences. But, Mr. Biden said the package of sanctions announced did not include cutting off Russia from Swift's international payment system, citing opposition from other European countries. Biden has promised new sanctions aimed at punishing Russia for an act of violence that the international community has been waiting for weeks but which could not stop it from negotiating. The chances of the end of the negotiations are very fading after Mr. Putin has called on Ukrainian troops to oust President Volodymyr Zelensky. On the ground, Russian troops were closing in on Kyiv, while Ukrainian troops and civilians were digging to defend the capital, and Mr. Zelensky vowed not to surrender.
The Russian invasion of Ukraine gives South Asian governments serious national and economic decisions. Pakistan is in a very precarious situation. Prime Minister Imran Khan ended his visit to Moscow after Putin announced the military operation in Ukraine. Russian President Vladimir Putin met with Pakistani Prime Minister Imran Khan, leaders of the two countries discussed key aspects of bilateral cooperation and exchanged views on current regional issues, including development in South Asia. Relations between the two countries have grown over the years, with Russia deepening ties with China, Pakistan's alliance. Prime Minister Imran Khan's visit to Moscow only focuses on bilateral cooperation, but your time may give the impression that Pakistan indirectly approved Putin's declaration.
Elsewhere in Pakistan, the conflict could create economic opportunities: as Russia faces potentially dangerous sanctions, it will seek new markets, and Pakistan may be attractive, especially if Russia climbs on top of China's investment portfolio there. Russia currently does not have a deep South Asian base but has explored trade and investment, especially in the energy sector. In Pakistan, the best solution to the Russia-Ukraine crisis would be a quick and peaceful solution. That seems impossible in an hour. Pakistan's challenge will be to strengthen relations with Russia without separating its Western trading partners, all while balancing the growing trade and defense relations in the US, Europe, and Ukraine.