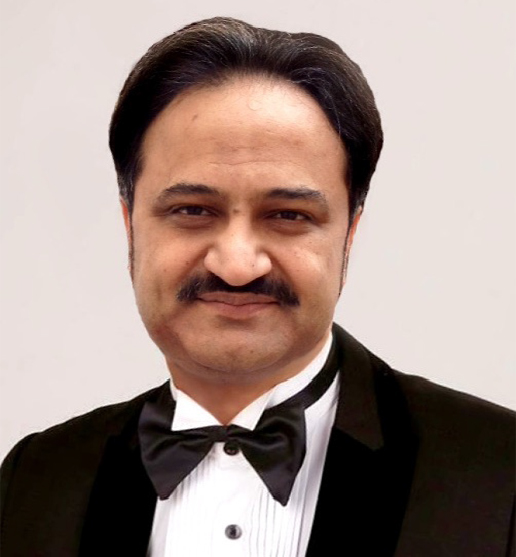 The writer is an
economist, anchor,
analyst and the
President of all
Pakistan Private
Schools' Federation
president@Pakistan
Saudi Arabian Army Chief of Staff General Fahd Bin Abdullah Mohammed Al-Mutair met with Indian Army Commander General M.M. This was the first visit by the Royal Saudi Army Commander to India and marked the deep security cooperation between India and Saudi Arabia. Relations between India and Saudi Arabia have grown as a result of similar interests in economic prosperity, eradicating terrorism, and reducing the effects of climate change. The move appears to represent the next step in the recent transformation of relations between India and Saudi Arabia, a country with historically close ties with Pakistan. Saudi investment in India has seen a huge decline over the past two years, especially after the visit of Prince Mohammed bin Salman to India in February 2019 which increased Saudi investment in India to $ 100 billion.
According to the General Authority of Statistics, in the first three quarters of 2021, India was Saudi Arabia's second-largest trading partner. India's Ministry of Trade found that in the current financial year (April-November), trade between the two countries amounted to $ 24.9 billion, an increase of 94 percent over the same period last year. It is very interesting to note that current trends suggest that bilateral trade will exceed pre-epidemic levels. It should also be noted that India is on track to achieve its $ 400 billion export target set by Prime Minister Narendra Modi. In particular, Indian exports to Saudi Arabia will safely exceed the target set. Although the epidemic has halted the flow of high-level trade and trade envoys between the two countries which was expected to form a Strategic Partnership Council during Modi's visit to Saudi Arabia in October 2019, negotiations have stalled. with visual platforms. The pillar of the Economic and Investment Council, led jointly by Saudi Energy Minister Prince Abdulaziz bin Salman and Indian Trade and Industry Minister Piyush Goyal, have already seen meetings at the senior level and under each of the four Working Groups. : Industry and infrastructure; Agriculture and Food Security; IT and Technology; and Power. About 745 Indian companies are registered as joint ventures or 100 percent of state-owned business owners as of October 2021. These figures are expanding across the sector and amounting to a combined investment of approximately $ 2 billion. India remains a high-income investment destination and is on track to become the world's third-largest GDP of $ 8-9 trillion by 2030.
Pakistan has been very helpful to Saudi Arabia in its defense. Pakistani troops have been defending Saudi Arabia since the 60s. The KSA even appointed Raheel Sharif as chief executive of the Islamic Military Counter Terrorism Coalition, a 39-nation coalition of Islamic countries headquartered in Riyadh, Saudi Arabia. Saudi Arabia used to have close ties with Pakistan. It supports Pakistan in all international forums whenever we need their support. After the nuclear weapons test, when the whole world was shocked by Pakistan and expressed concern, it was Saudi Arabia who was there to support us. Not only that, they provided Pakistan with more oil. Until 2014, Islamabad and Jeddah are on the same page about Afghanistan, Palestine, and Kashmir so much so that they both even issued a joint statement. A former intelligence official in Saudi Arabia once said that relations between Pakistan and Saudi Arabia are the closest in the world. Tensions between Saudi Arabia and Pakistan were reported earlier in 2020, due to the Gulf state position over the repeal of Article 370 in Jammu and Kashmir provinces. While trade between the two countries continued, Pakistan had borrowed $ 3 billion in loans from the Gulf province in December 2021 at an interest rate of 4 percent for the entire year.
If PM Imran Khan needs to market the China Pakistan Economic Corridor (CPEC) to Gulf and other countries to gain their support and step up our diplomatic game!
But since Muhammad bin Salman came to power, Saudi Arabia has focused on the economy, which has dramatically changed its foreign policy. When the crowned prince Muhammad Bin Salman (MBS) visited Pakistan in February 2019, he was warmly received in Pakistan. Pakistan has secured $ 20 billion in agreements and it appears that Pakistan is part of Saudi Arabia. However, he later visited India and agreed on deals worth $ 27 billion. According to some sources, the MBS visit also increased Saudi investment in India to $ 100 billion. Under the rule of Muhammad bin Salman, Saudi Arabia is trying to grow its economy because it does not want to rely solely on revenue from Makkah and Medina and wants to have more resources. It is now close to rich countries in Europe and Asia, and India is one of them.
But now India has a lot to offer in Saudi Arabia. All the former coalition partners in Pakistan are now slowly withdrawing from India. So how do we move from being besties with Saudi Arabia to this mysterious stage where we are not sure whether we should call Saudi Arabia our brother or not. Countries like the UAE, Saudi Arabia, Qatar, Oman have begun to see the potential of Indian investors. The Indian foreign ministers have begun to visit these countries regularly and are bringing them beautiful packages. During these events, India emerged as a potential ally of the Saudis by 2020. Prior to Naravane's visit in December 2020, India had issued strong criticism of an arrow attack on the Aramco oil field in Jeddah and expressed solidarity with Saudi Arabia.
In February 2019 (after Pulwama's attack), then Indian Prime Minister Arun Jaitley said India would take "every step of the way" to cut Pakistan out of the international community. After a disgraceful surgical strike followed by a failed military operation that resulted in Abhinandan being humiliated, India saw that the military attack would result in a global scandal so it changed its course and began to take our allies on its side by doing great. funds. For a while, India invested in Afghanistan but since the Taliban took power, everything has declined. India initiated bilateral relations with another neighbor, Iran, to make Pakistan insecure. He vowed to build the port of Chahbahar and Iran. But Iran has often invited Pakistani officials to harbor-related ceremonies. India involved Afghanistan in the Chahbahar project and yet the project was beyond the financial capabilities of these countries so it was temporarily postponed.
Later, India saw the potential of its elite entrepreneurs and workers. It offered its investment to attract the Gulf at times when the Gulf was changing its foreign policy on Kashmir and Palestine, which seemed to favor India. Countries like the UAE, Saudi Arabia, Qatar, Oman are beginning to see the potential of Indian investors. The Indian foreign ministers began visiting these countries regularly and bringing them beautiful packages. Today Pakistan is slowly losing its allies and Strategic status, and If Prime Minister Imran Khan wants to restore Pakistan to its former glory he should contact Pakistani businessmen and investors and take them on his foreign journey with him. You need to market China Pakistan Economic Corridor (CPEC) in the Gulf and other countries to gain their support and strengthen our embassy game.