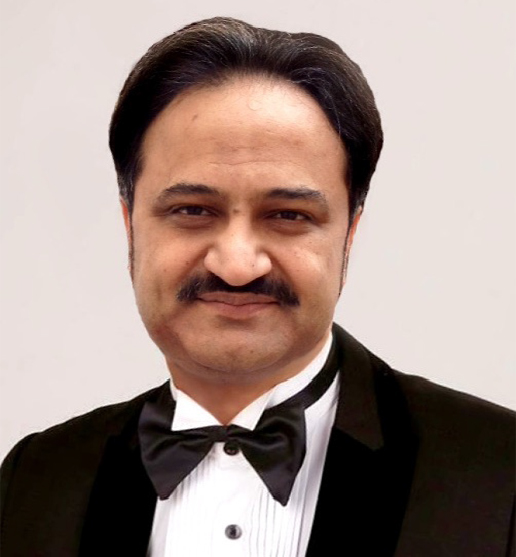 The writer is an
economist, anchor,
analyst and the
President of all
Pakistan Private
Schools' Federation
president@Pakistan
Russian President Vladimir Putin has said the United States and NATO had not addressed Moscow's main security demands in their standoff over Ukraine, as US President Joe Biden announced an additional troop deployment in Eastern Europe. The United States President Biden told Putin that 'things we did not do in 2014, we are prepared to do now' if Russia escalates in Ukraine'. The US says it is preparing strong economic and other measures over fears of a Russian invasion of Ukraine. Russia seized part of Ukraine and backed separatists who started a conflict in large areas of the east. Russia says it has no such plans, so what is going on? Ukraine shares borders with both the EU and Russia, but as a former Soviet republic, it has deep social and cultural ties with Russia and Russian is widely spoken there. That conflict in the east continues to this day. More than 14,000 people have lost their lives in seven years of conflict since Russian-backed forces seized large areas of Ukraine's east. Ukraine says Russia has sent tanks, artillery and snipers to the front in rebel-held areas. But it is the reported 90,000-plus Russian forces within reach of the Ukrainian border that are of most concern. Whereas, US intelligence says as many as 175,000 Russian troops could become involved as early as possible.
In an increasingly bipolar world order, Pakistan must not give up on neutrality and should call for restraint from both ends. Pakistan is warming up to better Russian ties and thus, all efforts must be exhausted to diplomatically aid the peace process. 
Moscow countered by accusing Ukraine of building up half its army – some 125,000 people – in the east and alleging that Kyiv was planning to attack areas controlled by Russian-backed separatists. Ukraine says that is nothing short of propaganda nonsense to cover up for Russia's own plans. President Putin has warned the West not to cross Russia's "red lines" on Ukraine. Meanwhile, a Kremlin statement said President Putin had stressed that Russia should not be held responsible for tensions because Nato was making dangerous attempts to take over Ukrainian territory and increasing its military potential on Russia's borders. Therefore Russia is seriously interested in getting reliable guarantees fixed in law to rule out the eastward expansion of Nato and the location in countries neighbouring Russia of offensive weapons systems. The White House said President Biden did not make any guarantees to limit Nato expansion. One of them is stopping Nato's expansion any further to the east, and deploying weapons in neighbouring countries that could threaten Russia. Nato's Western military alliance is defensive and its secretary general, Jens Stoltenberg, has made clear that any military support is purely along those lines.
The UK is set to help Ukraine build two naval bases, at Ochakiv on the Black Sea and at Berdyansk on the Sea of Azov. Whereas, Boris Johnson to call Vladimir Putin and will visit region. UK Foreign Office has also said that British officials are considering an extension of defensive support. US anti-tank Javelin missiles have also been sent to Ukraine and two US Coast Guard patrol boats have been given to the navy. Now, It is up to Ukraine and 30 allies to decide when Ukraine is ready to join the alliance. The US has made clear it is committed to helping Ukraine defend its sovereign territory, but President Biden has indicated military action is not on the table. The biggest tool in the West's armoury appears to be sanctions. President Biden has spoken of very real costs if Russia takes military action and US officials are talking about strong economic measures and supporting the Ukrainian military.
The measures included economic sanctions and other actions such as additional troop deployments to Nato allies in the region and defence equipment for Ukraine. As for economic measures, the biggest tool could be threatening to disconnect Russia's banking system from the international Swift payment system. That has always been seen very much as a last resort. Another key threat is to prevent the opening of Russia's Nord Stream 2 gas pipeline in Germany, and approval for that is currently being decided by Germany's energy regulator. Earlier reports said US officials had reached agreement with Germany to shut down the pipeline in the event of an invasion. There could also be measures targeting Russia's RDIF sovereign wealth fund or restrictions on banks converting roubles into foreign currency. In addition to economic measures, a new Russian attack on Ukraine would trigger a bolstered US military presence on the territory of existing NATO allies in eastern Europe. The United States already works closely with the Ukrainian military and has provided millions of dollars in weaponry. However, sending US troops to defend Ukraine without NATO agreement was ruled out for now.
Pentagon believes China not planning to be involved in Russia-Ukraine conflict. But, If war happens, it will be a huge distraction for the US. For China, that would be an opportunity of the same magnitude as 2014 . Beijing has backed Russia with a statement reflecting that position. Russia's "reasonable security concerns should be taken seriously and resolved", Chinese foreign minister Wang Yi Said. That dispute ruptured Russia's relations with the west and drove Moscow into China's arms. Between 2013 and 2021, China's share of Russia's external trade doubled from 10 to 20 per cent. But the most significant questions looming over China's potential role in a Ukraine conflict relate to its political and military partnership with Russia. If Russia sought Chinese support in a Ukraine war, Beijing might be in a position to help. Where the United States stands on all of these issues? Russia's military option could take a variety of forms from a large incursion, to a significant invasion of the eastern part of Ukraine.
For Pakistan, the worries are both political and economic. In an increasingly bipolar world order, Pakistan must not give up on neutrality and should call for restraint from both ends. Pakistan is warming up to better Russian ties and thus, all efforts must be exhausted to diplomatically aid the peace process. Economically, Pakistan must be ready for a prolonged higher oil prices, which have already at it's peak. Rising oil prices can have a devastating effect on Pakistan's growth prospects. A $10-20 rise in oil prices for a couple of quarters can conveniently burn $1-2 billion of our reserves. Pakistan must take measures to prepare itself for the worst-case scenario. The brewing Russia-Ukraine crisis – if escalates further – has the capacity to take oil prices above $100-120 a barrel and derail Pakistan for a hard-landing of the economy. Such a fall would be catastrophic in nature that even lenders, such as the IMF, wouldn't be able to bail out and could cause sovereign defaults and haircuts for bondholders.
Invading territory amidst a hostile population has significant risks. Ukraine's armed forces have had some Western weaponry and training and are much improved since 2015. However, Russian forces have also improved over recent years. The firepower Russia is building up is impressive. For all the talk about Ukrainian sovereignty Nato cannot and will not come to Ukraine's aid. And additional weapons supplies might simply contribute to Russia's justification for war. Moscow's calculation of the costs of conflict may also be influenced by previous military deployments. While the West currently sees military engagements through the prism of the strategic defeats in Iraq and Afghanistan, Russia may take a very different view. Its operations in Georgia, its seizure of Crimea, its combat in eastern Ukraine – not to mention its involvement in Syria – may all be seen by President Putin as relative victories. Russia is in the best position since 2014 economically, politically, and militarily to execute such an operation, which is not to say it will happen, but simply to suggest that there are the fewest constraints relative to other periods when it has conducted offensive operations.