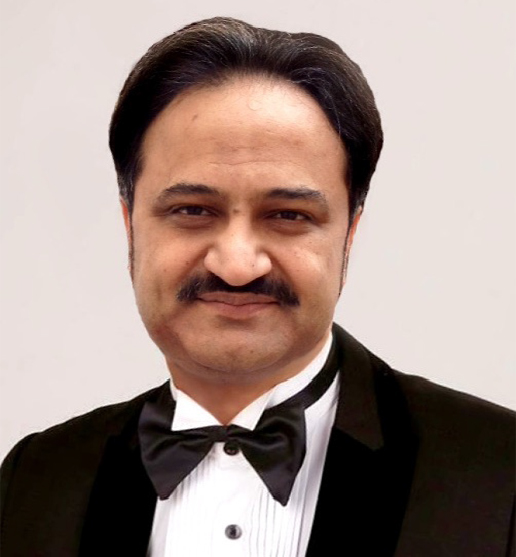 The writer is an
economist, anchor,
analyst and the
President of all
Pakistan Private
Schools' Federation
president@Pakistan
India operates Farkhor Air Base in Tajikistan and also at the Himalayan border region of Ladakh, where last year, Chinese and Indian troops clashed in the contested, resulting in the deaths of 20 Indian soldiers and four Chinese soldiers. India has since redirected 50,000 troops to its border with China for a total of 200,000 Indian troops now stationed there. China has also reinforced its military presence along the Himalayan border with 100 advanced long-range rocket launchers. With an alliance, India could allow access to strategic bases to protect US interests in the broader region. A US-India alliance would also give an edge over China. Like the United States, India recognizes that China is a rapidly growing threat. Not only is it attempting to capitalize on US withdrawal from Afghanistan, which goes against both the United States and India's interests, China is also pressuring India on its own borders.
Prior to US withdrawal, the Biden administration failed to secure basing agreements from countries neighboring Afghanistan to the north. Logistically, the US desperately needs these Indian bases, at Farkhor Air Base in Tajikistan and also at the Himalayan border region of Ladakh, to counter china and safeguard its missions. The US administration abandoned Bagram Airfield—the only US base in a country that borders China, which is ratcheting up tensions for the US. The Biden administration claims the United States retains over-the-horizon capabilities to strike, which is inaccurate. The US is now considering India, a nuclear power with more than 1 million troops, a growing navy, a top-tier space program, and a proven history of economic and military cooperation, to make a strong ally. An alliance with India would allow both countries to maintain and expand their global strength along with Japan and Australia, it would enable the United States to form a real deterrent to counter China. In 2002, the news leaked that India was setting up an airbase at Farkhor and the Indian government had to accept that. Russian assistance was also involved in the process. Farkhor airbase is strategically very important for India. It is located just 900 kilometers away from Pakistan which brings the Pakistani Capital in the striking range of IAF fighters. Pakistan has always considered India its biggest threat. These bases in Tajikistan give the Indian air force an edge over the Chinse Airforce as well. The Farkhor airbase can be very well used to disrupt the supply lines through the CPEC. The US desperately needs bases in the region, to influence China, Iran, Russia, and Pakistan, and now only have one partner, India, who can effectively keep a watchful eye on the region especially China and Afghanistan.
Logistically, the US desperately needs these Indian bases, at Farkhor Air Base in Tajikistan and also at the Himalayan border region of Ladakh, to counter china and safeguard its missions.
A US-India alliance would give China pause before further expanding into Central and Southern Asia. The US military held joint exercises with hundreds of Indian soldiers in Alaska to strengthen cooperation and better prepare for cold, mountainous conditions like those in the China-India border region. China also recognizes the region's shifting geopolitical realities. China's newly aggressive position toward India is not by accident, indeed China understood the part of a broader plan. The Chinese Communist Party (CCP) is emboldened after shoring up support Pakistan and has created and extended its Belt and Road Initiative. In exchange for bolstering Pakistan's faltering electric grid, sending thousands of doses of its COVID-19 vaccine, and giving financial relief to ease Pakistan's growing national debt, China now has a regional client state willing to do the CCP's bidding and help bolster its international standing.
Growing collusion between India and the United States poses serious security risks for both China and Pakistan. For India, a US alliance would be a bulwark against a two-fronted conflict on its borders. For the United States, an alliance would help blunt Pakistan's influence—propped up by Chinese investments—in Afghanistan. Beyond the security relationship, the United States and India also share economic concerns, including the need for a stable supply chain. India's enormous workforce offers an opportunity for the United States to alter its supply chain dependence on China. The US can rely on India as a major source of pharmaceuticals, technology, and critical minerals, supplementing domestic manufacturing capabilities. The United States and India drew closer together during the Trump administration; by the signing of the 2018 Communications Compatibility and Security Agreement. That deal granted India more advanced communication technology for U.S.-purchased defense equipment to help elevate coordination during the conflict. In October 2020, the Trump administration and the Indian government signed another agreement for geospatial cooperation that boosted the Indian military's weapons systems with advanced navigational tools.
India has deployed recently acquired US-made weaponry along its border with China, part of a new offensive force to bolster its capabilities as the countries remain deadlocked over disputed territory in the Himalayas. The buildup in India's northeast is centered on the Tawang Plateau adjoining Bhutan and Tibet, a piece of land claimed by China but controlled by India. It holds historical political and military significance: In 1959, the Dalai Lama fled to India across nearby mountain passes to escape a Chinese military operation. Three years later, both sides fought a war in the area. Now US-manufactured Chinook helicopters, ultra-light towed howitzers and rifles as well as domestically made supersonic cruise missiles and a new-age surveillance system will back Indian troops in areas bordering eastern Tibet.
The weapons have all been acquired in the past few years as defense ties between the US and India have strengthened due to rising concerns about China. Engineers in India are digging the world's longest two-lane tunnel, which is 13,000 feet (4,000 meters) above sea level and runs underneath a critical mountain pass currently accessible by a 317-kilometer meandering road to the disputed border. The tunnel will reduce travel time by hours, allowing faster and unhindered movement of troops around the year. The tunnel, once operationalized, would ensure that India can move its troops without detection by China. A new road has been constructed close to the disputed border to move troops and supplies. A second one running along the eastern borders of Bhutan connecting the disputed border to the plains below is nearly complete, throwing up more possibilities for military commanders.
People's Republic of China (PRC) officials have warned US officials to not interfere with the PRC's relationship with India. The Pentagon regularly reports to the Congress on the India-Chinese military standoff in eastern Ladakh. The Pentagon has repeatedly referred to China as the pacing challenge for the US. In 2020, acute tensions and clashes along the border with India resulted in significant People's Liberation Army (PLA) force build-up and establishment or enforcement of forwarding positions along the Line of Actual Control (LAC). It said that the People's Liberation Army (PLA) has approximately 975,000 active duty personnel in combat units and that it has accelerated its training and fielding of equipment from the already fast pace of recent years. These tensions likely provided the PLA with valuable real-world operational and tactical experience The PRC seeks to prevent border tensions from causing India to partner more closely with the United States.
Once US President Joe Biden announced that diplomacy was the center of US foreign policy and aimed to repair its alliances and engage with the world once again. But during his presidency, the opposite has happened—and the United States' adversaries are growing in the situation. The whole world witnessed that ministers in the British Parliament publicly rebuked Biden in the aftermath of the disastrous Afghanistan withdrawal. China has increased its incursions into Taiwan's air identification zone to record levels. Russia is increasing its influence in Belarus and further threatening Ukraine. Pakistan has stepped up its engagement with Iran. France recalled its ambassador in an extraordinary move. The US has isolated itself with Eastern European allies by capitulating to Germany over the construction of Russia's Nord Stream 2 pipeline. US foreign strategizes also proved failed from Hamas to Iran to the Taliban. Is this really the best diplomacy and engagement the United States can muster? Absolutely not. The United States should again reconsider its foreign policy and prioritize relationships that strengthen the peace with standing in the world.